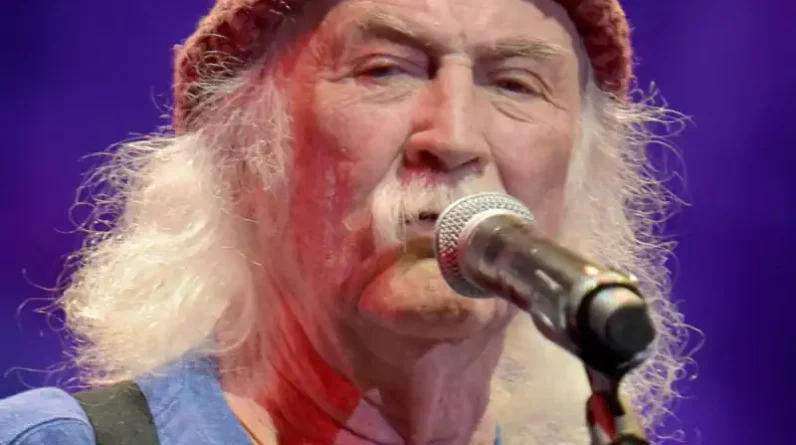 Rock & Roll Hall of Fame inductee David Crosby has died at age 81.
According to a text message received by The New York Times from Crosby's sister-in-law, the musician passed away Wednesday night, January 18, 2023. Several media outlets, including Rolling Stone and Variety, confirmed the news.
Crosby was a prolific performer, touring for decades from the beginning of his career as a folk musician. He was inducted into the Rock & Roll Hall of Fame twice, for his work with The Byrds and Crosby, Stills. He was also a solo artist, known for his iconoclastic approach to music.
Crosby's wife Jan and son Django were with him in his final moments. "He was lovingly surrounded by his wife and soulmate Jan and son Django," his sister-in-law told the outlet. "Although he is no longer here with us, his music will live on forever."
Background
David Crosby was an American singer-songwriter and guitarist best known as a founding member of the rock band Crosby, Stills & Nash (CSN) and later Crosby, Stills, Nash & Young (CSNY). He was born on August 14, 1941 in Los Angeles, California.
Crosby began his music career in the 1960s as a member of the folk rock band The Byrds. He was with the band from 1964 to 1967, playing guitar and singing harmony vocals on many of their hit songs. After leaving The Byrds, Crosby formed CSN with Stephen Stills and Graham Nash in 1968. The band quickly gained fame for their harmonious vocals and socially conscious lyrics. They released several successful albums, including their self-titled debut in 1969 and "Déjà Vu" in 1970.
In 1969, Neil Young joined the band to form CSNY. They released several more albums, including "4 Way Street" in 1971, which was a double live album. Despite their commercial success, the band went through many personal and professional conflicts throughout the 1970s.
Throughout his career, Crosby also released several solo albums, including "If I Could Only Remember My Name" in 1971 and "Thousand Roads" in 1993. He also collaborated with various other musicians, including Joni Mitchell and James Taylor.
Crosby had a tumultuous personal life, including struggles with drug addiction and multiple arrests. Despite this, he continued to be active in the music industry, and was been involved in various CSN and CSNY reunion tours. He was also active in environmental and political causes.
Crosby is considered one of the most influential figures in the history of rock music and is known for his songwriting, guitar playing, and vocal harmonies. He was also one of the most iconic voices of the counterculture movement of the 1960s and 1970s.